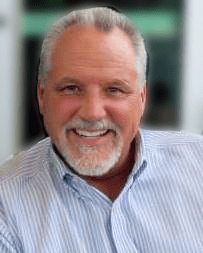 A graduate of Georgetown University School of Dentistry, I believe dentistry at it's best involves truly working with people, and goes beyond merely treating teeth.  Not long out of dental school I realized that the boundary which has traditionally existed between doctor and patient is detrimental to promoting health, and I've taken specific steps to remove barriers to communication.  A simple example is my rejection of the traditional lab/white coat of the "doctor".  I believe that any respect given to me is earned, and not bestowed from my degree or title.  I believe the most important reason for being in practice is the opportunity to make a positive difference in the lives of those I touch. Ever since high school I wanted to be in healthcare, subsequently focusing my attention on dentistry. Important individuals who notably and positively influenced my views on healthcare were my pediatrician (Dr. Walter Fernau, Sr.) and my dentist (Dr. Theodore "Ted" Dill).
Born in Pueblo, Colorado, the oldest of three, I grew up on the west coast as my family followed my father's advancing career (Colorado, California, Washington) until moving here to attend dental school. I graduated from Shadle Park High School in Spokane, Washington, and then as a biology major from Washington State University in Pullman, Washington. After a year of post-graduate study in nutrition at the University of Washington in Seattle, I moved to Falls Church, Virginia to attend Georgetown University School of Dentistry. After dental school I had the opportunity to work with many excellent people, and in particular I practiced with Dr. Doug Roth, his wife Sandy, and Mary Osborne (hygienist) in Springfield, Virginia. Doug and Sandy now have an international dental consulting firm: Prosynergy, based in Florida, as does Mary with her own international consulting firm based in Seattle, Washington: Mary Osborne Resources.
"Dr. Steve, he's such a nice man!" – Johnny Dunn, 5 yrs. old
Priscilla, me, and our dog, Sophie, live in Franconia, Virginia. We're all
hikers, and enjoy the Shenandoah National Park as if it were our backyard. In addition to shells, we collect cobalt blue antique bottles. I enjoy watercolor paintings, mystery novels, digital photography, computers, and politics. You may find us at one of our favorite restaurants in Old Town Alexandria, taking Sophie for a walk in Huntley Meadows Park, or hunting down antiques. To know me better, know that we subscribe to the Washington Post, listen to National Public Radio, and enjoy jazz music.
I always try to put myself in my patients' place, and have worked hard to get my own mouth healthy to be an example. I had four wisdom teeth, but had them removed and then wore braces as an adult. I had the great fortune to have grown up with fluoride, and have only three fillings (all are tooth-colored, i.e. composite fillings). I whitened my teeth, and floss all the time. I like to suggest to people looking for a dentist to look at the prospective dentist's teeth.