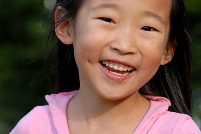 Getting kids started out right with their teeth is a mission of mine, and I hope yours too.
A simple thing you can do is to make sure that your children get their regular dental checkups. Most of what we do is preventive (teach preventive care, like dry brushing; sealants, etc.), and with regular checkups if a cavity is detected it will be no big deal. Dental health has long-term implications for heart disease and stroke. Most dental problems can be avoided if usual prevent practices are followed.
A question I'm often asked is when to bring a child for their first checkup, and even today most parents are surprised: 12 months old. The easy rule of thumb is first checkup by first birthday. Of course at that age we don't clean their teeth at age one, but we make sure that you know what to do. More about me working with children, click here.
If it's time to get your children in for a checkup consider getting them in February during National Childrens Dental Health Month. And … it's not just for kids – had your checkup lately, click here?
A little history on Dental Health Month and some activity pages too (good for teachers!), click here.